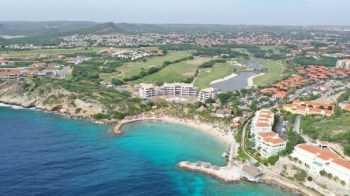 Blue Bay, Curacao
| © Frank Brouwers
Current water temperature on the Curacao coast. Forecast of changes in water temperature. Historical data.
Water temperature in Curacao today
Most popular locations in Curacao over the past week
Conditions of sea water on beaches in Curacao
Now in all beaches in Curacao, the water is very warm and comfortable for swimming.
The water temperature in Curacao has risen over the past 10 days, but has dropped compared to 30 days ago.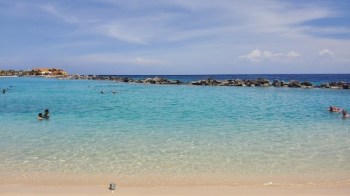 Mambo Beach, Curacao
| © Mario Aguilar
Today the warmest water in Curacao is recorded in Labadera. Its value in this location is 84°F. And the coldest one is in Willemstad, its value 82°F.
The trend can be seen on the graph. It shows the change in average sea surface temperature over the past two months.
For the two most popular locations for swimming in Curacao, the graphs of changes in the average water temperature throughout the year are as follows:
Willemstad, Curacao
Sabana Westpunt, Curacao
We process, analyze and store data for every beach and city in Curacao. Below is a table with current weather data and trends in some places of the country.
Climate in Curacao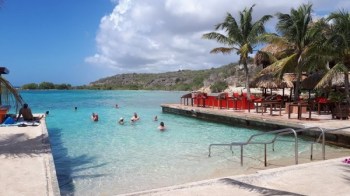 Willemstad, Curacao
| © Angélica Peña
Curacao is located in Central America. The country is washed by the Caribbean Sea. Curacao is a small country. To determine the temperature of the water in it, we track only two settlements.
Tropical marine, trade wind. Most of the year there is warm and comfortable weather with a minimum temperature difference between the seasons. The average temperature in summer (June - September) is about + 27°C, in winter (December - February) - + 25°C, while the daily temperature drops are extremely small - the thermometer at night rarely drops below +20 C even in winter. The northeastern trade winds blowing from the Atlantic Ocean bring frequent and heavy rains. The amount of precipitation varies from 280 mm on the western shores to 1000 mm on the northeastern slopes of the coastal hills. The average annual rainfall in Curacao is about 500 mm (the maximum falls on the period from May to October-November). Relative humidity is fairly constant throughout the year, averaging 76%.Curacao is located south of the «Caribbean hurricane belt» and is hardly affected by the elements. However, almost constantly blowing east winds make some areas of the north and north-east coast quite uncomfortable.
Curacao: regions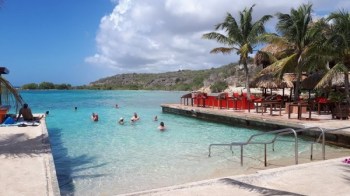 Jan Thiel, Curacao
| © Angélica Peña
Curacao: oceans and seas
We monitor the following oceans and seas that wash the country. Just go to the page for a specific reservoir and see the temperature in all settlements on the coast.